Parameter settings for EUR/USD, M15
MINIM_DAILY_PROFIT

 

= 

Minimum daily profit = 

10000
BATAS_FREE_MARGIN

 

= 

Free margin limit = 

50
JAM_ON

 

= 

The robot starts trading = 

1
JAM_OFF

 

= The robot is finished trading = 23
HEDGING

 

= 

Hedging = 

true
PARAMETER0 = PROSENTASE FLOATING MINUS
prosentase_floating_minus = Hedging based on a percentage = 1
PARAMETER1

 

= Indicators used = RSI
PERIOD_RSI

 

= 

Period RSI = 

14
LEVEL_OS

 

= Level OS = 1
LEVEL_OB

 

= 

Level OB = 

75
SHIFT_RSI

 

= 

Shift = 

1
digit_belakang_lot

 

= 

Back digit lot= 

2
lots

 

= Lot = 0.01
USE_COMPOUND

 

= 

Using compounding = 

true
KETAHANAN

 

= 

Endurance = 

133333
tp_in_money

 

= 

Take profit in money = 

999999
TP

 

= take profit = 50
SL

 

=

 

Stop loss = 0
FITUR_TRAIL

 

=

 

Trailingstop feature = true
TrailingStop

 

= Trailingstop = 10
range

 

= Range = 15
MAX_OP_BUY

 

= maximum open buy = 20
MAX_OP_SELL

 

= Maximum open sell = 20
MagicNumber

 

= Magicnumber = 12345
Slippage

 

=

 

Slippage = 3
BEST TRADING PLAN USING THE FXMH EXPERT ADVISOR
If initial deposit of $100. And the price drops, the loss balance reaches 50%. Funds must be added to the account according to the initial deposit of $100 to avoid margin calls and account burnings.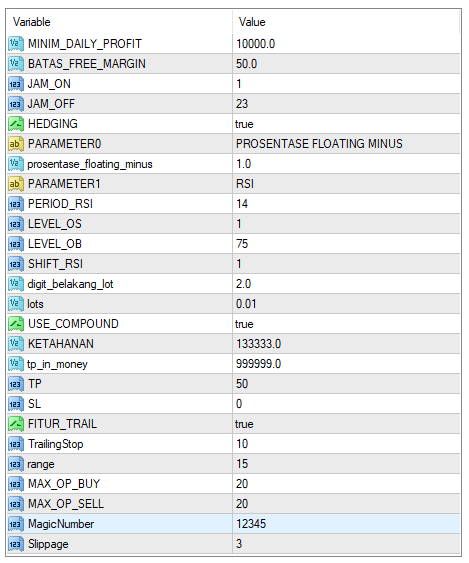 Recommendation broker
Support all broker select ECN account. If you change the parameter settings. Please try a demo account first until 3 months.
DISCLAIMER: Forex trading has a risk of losing all your money. Martingale and hedging systems that we have used now are kind of risky in the forex trading considering they involve a lot of lots. We do not encourage newbies and beginners to take these systems and strategies because you would lose your money and forex account as well. There is no warranty if the automatic system would generate profits in the future.