If you have any questions, you can reach me on my profile: 
Profil MQL5 :  ✔️ 
My experts advisors :  ✔️ /seller
⭐️⭐️⭐️⭐️⭐️ EA BotGPT MT5 © : 
Setting up the BotGPT EA
Launch Promo:

 

Write a review on the market after your purchase, add me as a friend and contact me to get another one of my robots of your choice for free.
1/ Slide the robot on the EURUSD chart M15
In the (common) tab, check the box: Allow Algo Trading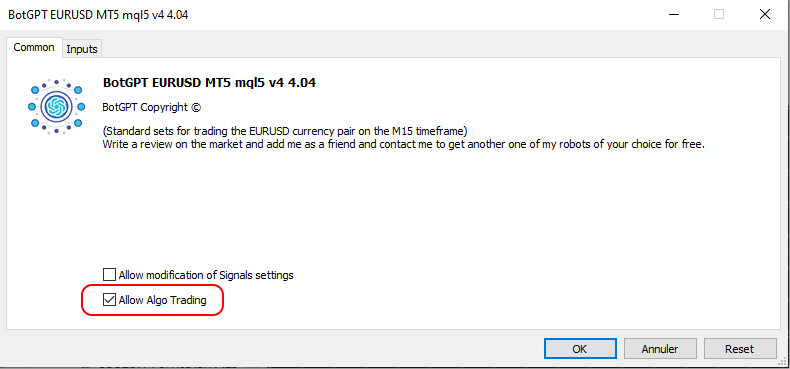 2/ In the (Input) tab
Parameters of trades A and B
The default settings are optimum for M15 period trading. Stoploss and take profit are indicated in points.  
A: is the first trade that is started most often (0.01 lots)
B: corresponds to the 2nd trade which is launched following the decision of the robot.
(Trade B numbers) : You can choose here if you want trade B to be divided into several micro trades.
I specify that trades A and B work together, you cannot separate them.
Money trade management A and B
The lots are indicated here. By default, the setting is for a capital of $500.
Trade A =  0.01 lots Whatever your capital
Trade B =  0.20 lots for a capital of $500 (aggressive strategy)
For example if you have a capital of $1000 you indicate 0.40 lots

It is recommended to start with 0.15 lots for $500 (normal strategy)
| | | |
| --- | --- | --- |
| Trade B : | Caution: 0.10 = | conservative strategy for the long term. |
| Trade B : | Default : 0.15 = | normal strategy. |
| Trade B : | Max profits : 0.20 = | aggressive strategy to be used preferably once the capital has been recovered. |
Trade Fibo cumulative effect : 
Risk % is the percentage of risk of your capital that you want to take on each trade. If you indicate 10, then 10% of your capital will be engaged in trading. If the trade is successful, the next stake increases as your capital increases. If the transaction is losing, the next bet is reduced since your capital will have decreased. And so on.
To enable this option, set it to True and indicate your risk percentage. Specify 0.00 in the Lots box.

Trailing stop :
The trailing stop, very useful for securing your capital. To activate this function, indicate the number of points earned for which your Break Even will be activated. As soon as the BE is activated, your capital is protected.
This function is only useful in certain cases. For example, if your take profit is large, this is very useful. Otherwise, this function may not be profitable. It's up to you to make backtets.

Trading hours:
Here we indicate the days and times when the robot is allowed to trade.
It is recommended not to touch this parameter, it is preferable to load the adjustment file (available at the bottom of the page) and leave this parameter.
The function (Close trades outside trading hours) is set (false) by default, which means that open trades will remain in place even if the Take Profit or Stop Loss is reached. If you set this option to (true), open trades can be closed if needed.
News Filter :
This filter is used to prohibit the robot from trading before and/or after certain financial/economic announcements that may influence stock price results.
By default, the filter is positioned on (false) which means that it is not active. To use this option, set it to (true) mode.

To use a filter, you must:
– Switch the (false) to (true)
– Choose the source of the news (investing or ForexFactory)
– Select the level of importance (preferably choose the highest level)
– Select the relevant currency
– Indicate the number of minutes before the news
– Indicate the number of minutes after the news
Forex News Auto Protect : 
To make your trading account as secure as possible, you can enable the (USD to true) option. The EA will ensure that transactions are automatically banned during market fluctuations.
If you want the EA to initiate more transactions, you need to disable this feature (USD to false). (Leave GBP as False)

Please choose and download the tuning file below, your EA will be automatically tuned to the best desired level.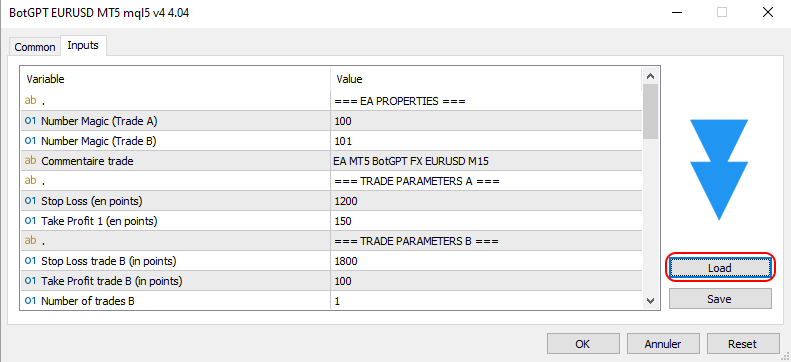 The settings are finished, you can click on OK to validate and launch the robot. Check at the top right of the graph that the smiley is smiling.
I remain at your disposal if you need help with the adjustment.
Happy trading to you.
SETTING SECURE :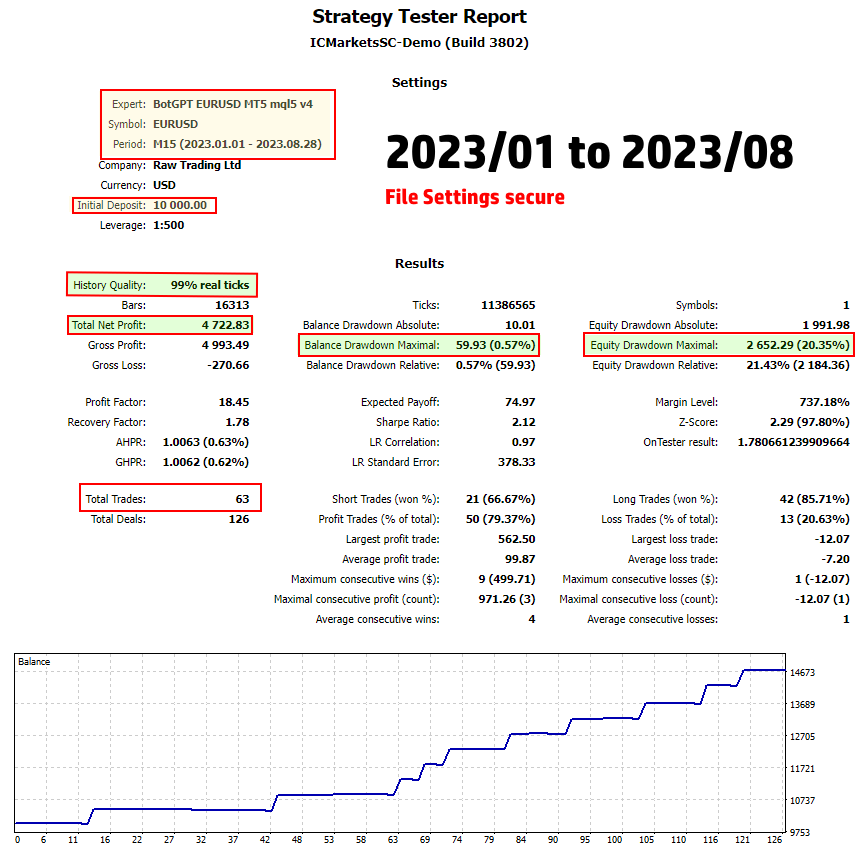 SETTING CLASSIC :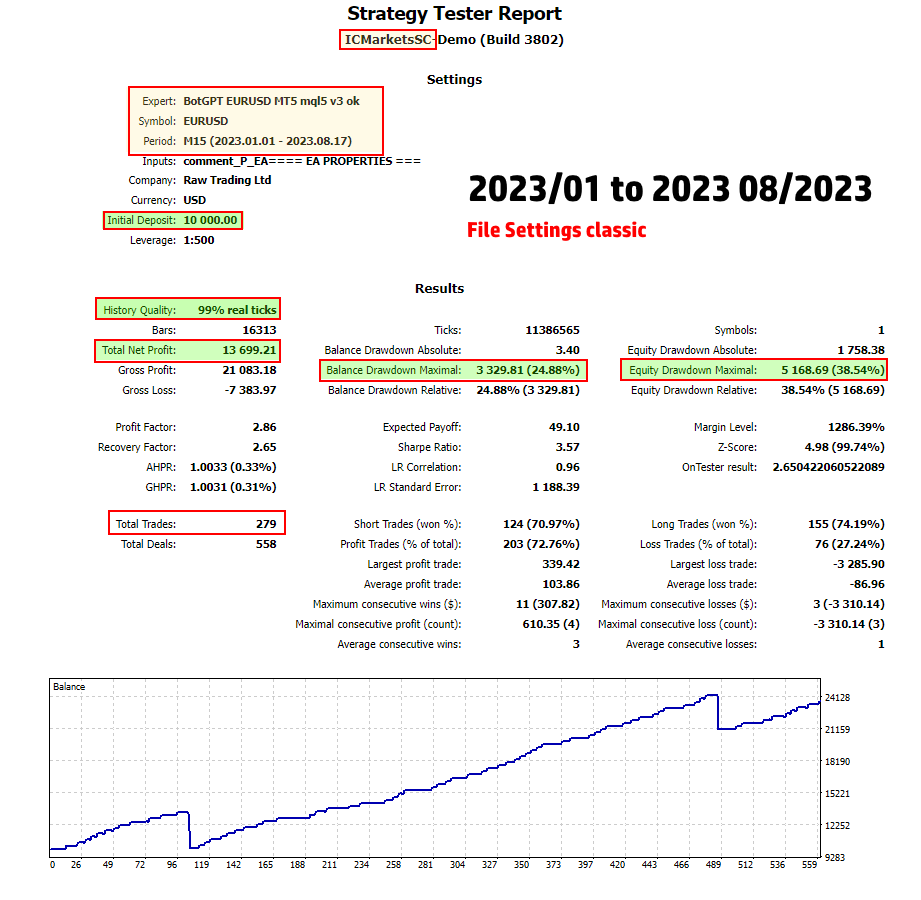 منبع: https://www.mql5.com/en/blogs/post/754044